I have a three year old, so the refrain of "I want!"  and "Gimmee!" is common 'round these parts.  It's part and parcel for a child of that age, and as a parent I (as well as Mrs. Race Fan) do our best to instill non-materialistic values and quell the desire for instant gratification. Three year olds are extremely resistant to this sort of life lesson.
As a middle-aged guy, I have an inner three year old that wants all kinds of things.  OK, more like twelve and not three, but you get the idea.  The problem is my lust for toys can't be sated on the cheap.  The old adage "you can tell the men from the boys by the price of their toys" is cliche, but it is very, very true.  The toys I want don't come free in the box with your burger and fries, but oh how I wish they did!
For those that don't follow general automotive news, there's a little soiree taking place in Detroit called the North American International Auto Show.  As far as auto shows, this is the show in the United States.  Hosting it in the backyard of the three predominant U.S.-based automakers is a no-brainer.  Having been to NAIAS once some 20 years ago, it really is a grand spectacle.
Now, you're three paragraphs in and wondering what this has to do with racing, right?  Well, there are some cars, both concept and production, that have debuted at the Detroit Auto Show that anyone interested in performance driving should be interested in. Several years ago, I've vowed that my next car will be a sports car of some sort.  Call it my mid-life crisis.Right now I drive a small pickup, which is extremely reliable and efficient, but not particularly fun to drive.
So what is there to look forward to?  Let's take a peek, shall we?
Kia GT4 Stinger Concept
Would you believe this is a Kia?  When I met Mrs. Race Fan, she drove a Kia Sephia, which was a little red crapbox.  It appears they've come a long way in terms of design.  This is only a concept, but it has all the right proportions and specs for a performance car.  The concept has RWD, a manual six-speed, 312bhp 2-liter turbo, double-wishbones front and rear, stripped-down interior, and big Brembo stoppers. With a 52/48 weight distribution and a curb weight of 2874 pounds this would be a lot of fun to whip around any corner. There's also no audio system to be seen or heard, saving weight and relegating you to the symphony of mechanical glory from that turbocharged lump.
It has been pointed out that this appears to be a Kia version of the Hyundai Genesis, which would make for a fine performance car. They say it' coming to market very soon. I hope so!
Toyota FT-1 Concept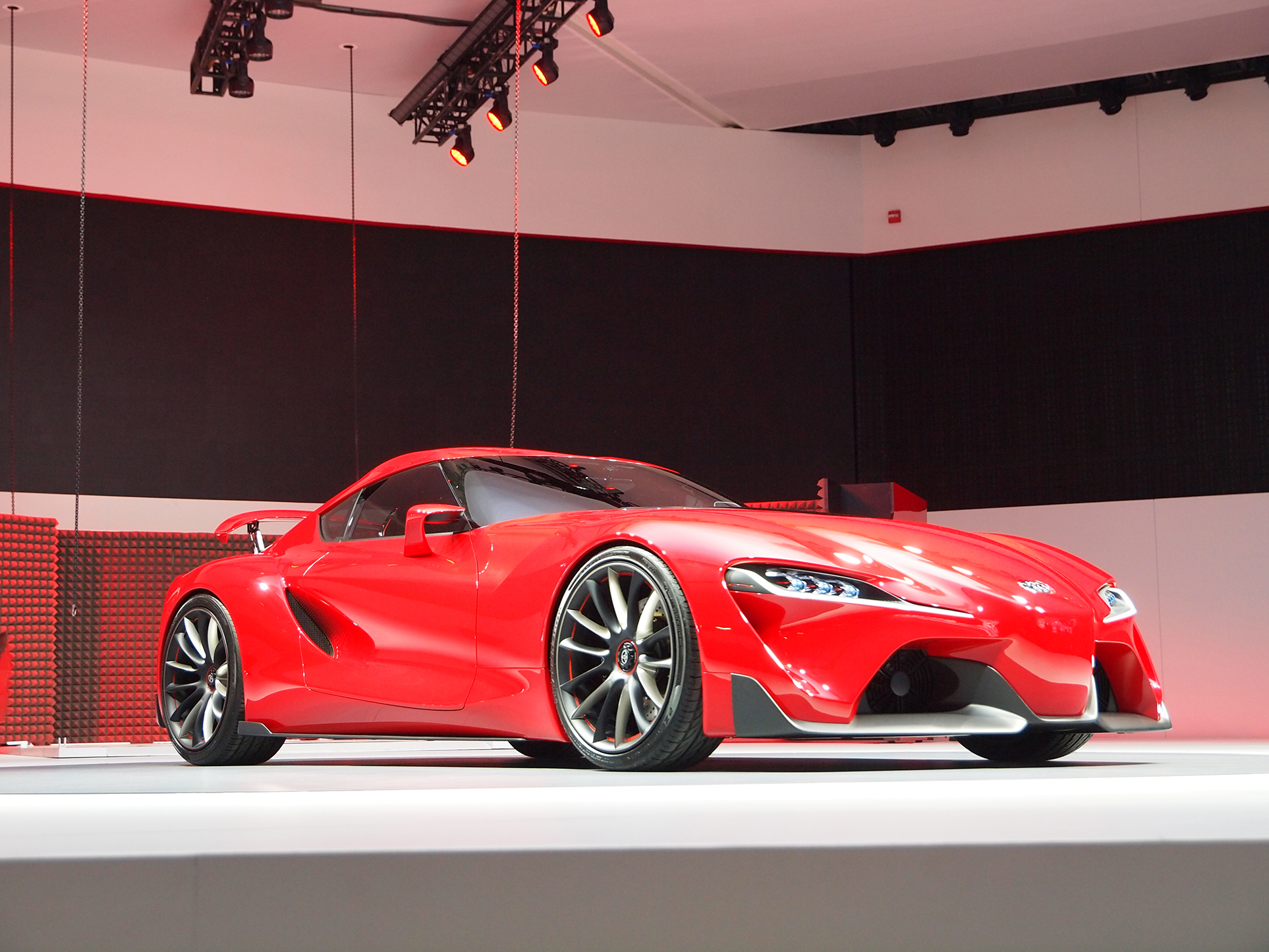 Many insiders are saying that this is likely to be the next Supra if it makes production.  This is another one that I hope will see an assembly like.  Toyota's CEO made the decision to design a sports car to bring Toyota back t its performance heritage.  You can definitely see some styling cues from older Supras, as well as the gorgeous 2000GT.
The idea is a car on-par with a low-end Porsche or a Corvette, planting it well above the FT-86 platform that was jointly developed by Toyota and Subaru.  There are no specifications, sadly, but with a sleek design like this, you can only imagine the beast that lies under the hood.  One small consolation is that the FT-1 Concept will be available as free downloadable content in Gran Turismo 6 for the Playstation 3 as of January 14. I hope that we'll see comparisons of the electronic version and the real version at some point.
2014 Porsche 911 Targa
The Porsche 911 isn't new, nor is its Targa variant.  The 911 lineup has been without a Targa model for some time, and it's good to see its return.  Personally, I'm not a fan of the Targa, but I think they do look good. Ina addition, the option for open-air driving without sacrificing chassis rigidity is always a good thing.  The rear wraparound glass helps create a nostalgic vibe, which the 911s of late have been missing. If I could afford a 911, this wouldn't be my choice, but I do like it.  I certainly wouldn't kick it out of the garage!
What makes this so much better than the concepts above is that this is real. And being a real Porsche it has bits of fascinating German technological wizardry. For example, the Targa top, which has always required you to remove and stow the top now has is don mechanically. You can build yours to order at at the Porsche website right now. A note for you rear-wheel drive purists, the Targas are only 4WD.
2015 Chevrolet Corvette Stingray Z06
To quote George Takei, "Oooooooohhhhh Myyyyy!"  This is the Corvette that every enthusiast has been waiting for since the launch of the C7 a year ago. This is pure in-your-face performance.  All those vents and louvers aren't there for show, boys and girls.  They are functional pieces, added for cooling some system or adding downforce.  This is a track-day monster, as the specs indicate:
6.2-liter supercharged LT4 V8 producing "at least" 625 horsepower and 635 lb-ft of torque
Curb weight of 3150 pounds, over 300 lighter than the standard Stingray.
A 7-speed manual transmission (no flappy paddles!).  A hydraulic 8-speed automatic is an option, and claims to shift faster than many double-clutch transmissions.
Perfect 50/50 weight distribution.
Magnetic Selective Ride Control dampers.
Three-mode electronic limited-slip differential (eLSD).
Brembo carbon ceramic-matrix brake rotors.
This is the bad boy of the Corvette lineup.  The development of the C7-based GTLM-class racer that we'll see on-track at Daytona has a lot of influence in the functional design, but this isn't the same car.  The rules package won't allow for the Z06's supercharged motor and the gobs of horsepower it puts down.  General Motors has been tight-lipped about performance figures, but those will come out as journalists get their hands on these monsters to test on roads and tracks.
I dare say that any one of these would be a competent, if not potent track day car or regular at the Autocross.  And it would certainly make driving every day a hell of a lot of fun.  I hope that the Kia and Toyota Designs make it to production. Whether or not owning either is in the realm of possibility is another matter.  Either way, the fact that sportier an more performance-driven designs gives me hope that we're not going to be stuck with some bland commuto-pods on the roads.
As I write, the Chili bowl is happening.  I know it's aired on MavTV, and Dave Despain is on air.  I like Despain, and I miss WindTunnel. I don't get MavTV on our cable system, and we are slowly transitioning away from cable TV.  Unless MavTV streams anything, I got nada.  I'd like to know how the coverage is, though, so if you've seen any of it, let me know.
FYI, the cover image is our perch overlooking Turn 2 at Barber, circa 2011.  Yeah, that's Kevin.  Yeah, I'm getting misty-eyed.  I'm looking forward to going this year, because I'm working on getting some other friends and family to be there, so it would be a big group of friends and family.  I'm hopeful that my father can come down. He is looking for an excuse to get on the bike and ride, and I think this would be a good excuse. I'm pretty confident that I'll be there again this year, as well.  I certainly hope so.
If you're there, let's meet, sit, talk, have a beer and enjoy some racing.