Sunday's Japanese Grand Prix was preceded by the threat of typhoon Phanfone, which wound up being a part of the action on Sunday. Then Alonso drops his bombshell that he'll leave Ferrari after this season. Not to be outdone, Sebastian Vettel announces that he's leaving Infiniti Red Bull Racing. While not an official proclamation, Christian Horner let an F-bomb slip: Seb is headed to Ferrari.
Phanfone didn't show up until Sunday, with the race starting on wet tires behind the Safety Car. Rain came in and a red flag was thrown after three laps. After resuming, the only item of note was Alonso's car losing all power. The onboard camera showed his telemetry at the time and everything went black, including his steering wheel.  Game over, Fred.
The rain returned and that's when Sutil went off in Turn 7. The crane was in the gravel to retrieve the Sauber when Jules Bianchi lost control and hit the rear of the crane. At that point, the race was red flagged and ended, as Bianchi required immediate medical care and was evacuated. According to reports, the track helicopter wasn't able to fly, so he was transported by ground ambulance to a local hospital.
Podium Results:
Lewis Hamilton, Mercedes
Nico Rosberg, Mercedes
Sebastian Vettel, Red Bull Racing-Renault
Hamilton's win stretches his WDC points lead over his teammate to ten.
But the results and championship standings aren't what matter right now.
As of Monday afternoon, Bianchi is in intensive care without lie support, but still in critical condition after two surgeries, at least one on his brain.
There's no question that Jules Bianchi suffered a horrendous accident at Sunday's Formula One Japanese Grand Prix. There are, however lots of questions surrounding the accident that remain unanswered.
As of Monday morning, the first video of the crash itself has made its way to the internet. The video is very short, about six seconds long, and shows only the impact. I'm keeping the video 'below the fold' so the video won't pop up in your RSS feed automatically or something. The video isn't blood and guts gory, but it is a violent and scary impact. If you're sensitive, don't watch the video.
There are a couple items to note about the crash. Bianchi was going very fast. I would argue that he was going too fast for conditions and/or circumstances, but I also don't know all the details, car telemetry or anything else.
At times like this, we'll leave the investigation and the fact-finding to the professionals and experts. As fans, we can only support the drivers in their dark periods.  Prayers, thoughts, well wishes and all positivity to Jules Bianchi, his family, his team, his friends and his fans. We all pray for your speedy and uncomplicated recovery.
Here is the impact video:
[youtube_sc url="https://www.youtube.com/watch?v=ZoinAuyjLDA"]
This is a second, longer video.  The original 6-second clip was removed by the user.
It's short and very violent.  I've heard unconfirmed reports of a 50G+ impact force.  That alone would be enough to cause a severe head injury.
If you slow down the video, you can see the mayhem.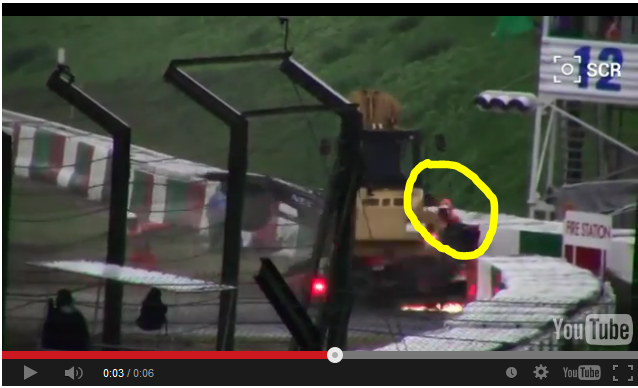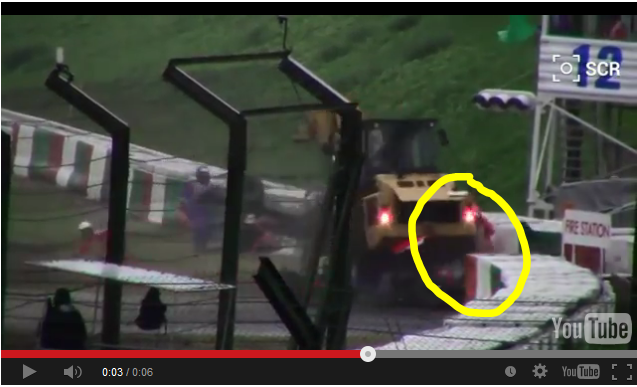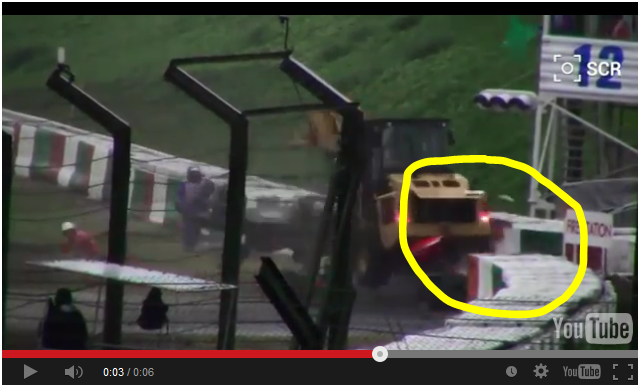 This sequence of screen captures from the impact video show a track or safety worker going from doing his job to possibly being trapped and/or injured in less than one second.
It's certainly too early to assign blame for this, but you can't argue that there was absolutely no reason for this to happen.  I haven't heard any reports of anyone other than Bianchi injured.  If there are, I hope they are well and wish them a speedy recovery as well.